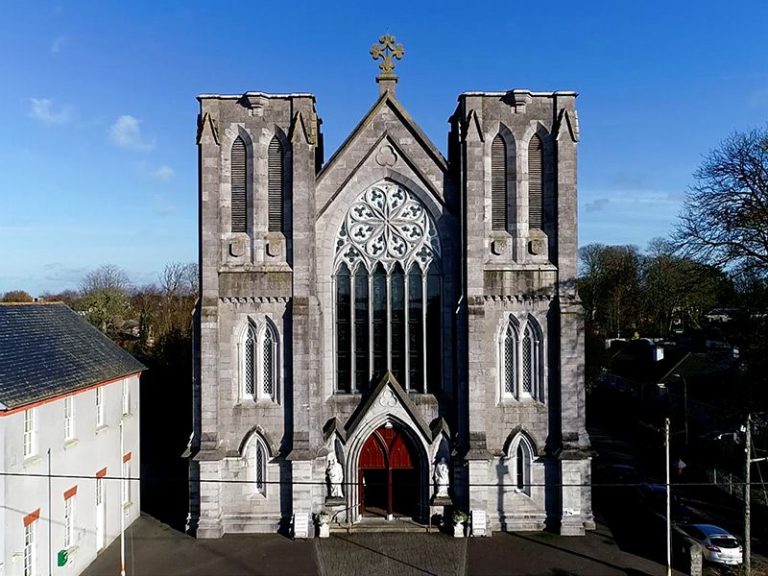 Saturday Vigil
6.30pm
Sunday
9.00am & 11.30am
Tues to Fri
10.00am (except when Funeral Mass)
Weekday Mass is held in St Mary's Chapel
Holy Days
10.00am and 7.30pm only
Devotions
10.30am to 5pm Thursdays
Adoration of the Blessed Sacrament
Confessions
6.00pm-6.30pm Saturdays
Or by appointment
Baptisms
2nd Saturday of each month at 12.00pm;
Last Sunday of each month at 12.15pm
Weddings
Booked in Parish Office
The Church of Sts Peter and Paul was built in 1847 during the famine years by local labour, using local limestone.
It consists of a wide nave without isles or pillars and has beautiful stained–glass windows. 
The architect Richard Dean Butler planned for the two towers to be surmounted with spires .Unfortunately this work was not completed.  
The church was dedicated by Fr Michael Comerford PP on October the 19th, 1879.(Author of the three- volume history of the  Dioceses of Kildare and Leighlin) He was parish priest in Monasterevin from 1878-1888. 
Count John McCormack of Moore Abbey ,(1925-1937). The famous tenor was a benefactor of the church. 
A Bins organ was installed in May 1984.
During the 1994-1996 restoration new painted Stations of the Cross were installed. 
It is considered one of the nicest Churches in the Dioceses of Kildare and Leighlin.